Regular price
Sale price
$27.95 USD
Unit price
per
Sale
Sold out
Description

Selenite, Lava Stone, and Hamsa Hand Bracelet

 Harmony Infusion Bracelet, a fusion of powerful energies and symbolic elements designed to bring balance and protection to your life. This unique bracelet features a combination of genuine Selenite and Lava Stone beads, accompanied by a Hamsa Hand charm. Each element has its own significance and healing properties, creating a harmonious blend for your enlightenment.

Step into a realm of balance , protection and harmony with our  Selenite and Lava Stone, adorned with the symbolic Hamsa Hand charm. As you wear this bracelet, allow the energies of Selenite and Lava Stone to intertwine, grounding you in the present while uplifting your spirit towards higher realms.

The Hamsa Hand, a universal sign of protection and blessings, watches over you, warding off negative energies and bringing good fortune. This charm embodies the essence of ancient wisdom and serves as a reminder of the protective forces surrounding you.

Selenite Healing Essence: Selenite promotes mental clarity, spiritual growth, and purification. It helps in connecting with higher consciousness, creating a channel for positive energy flow.

Lava Stone Grounding Energy: Lava Stone is known for its grounding properties, providing stability and strength. It's formed from volcanic lava and carries the energy of the Earth.

Hamsa Hand Symbolism: The Hamsa Hand is an ancient symbol of protection and blessings, believed to bring good fortune, abundance, and shield against negative energies.

Harmonious Blend: The combination of Selenite and Lava Stone, complemented by the protective Hamsa Hand charm, creates a balanced and harmonious energy that fosters inner peace and strength.

Thoughtful Design: The bracelet is carefully designed, allowing you to carry the harmonious energies of these meaningful elements wherever you go. The stretchable cord ensures a comfortable fit for most wrists.

 The powerful combination of Selenite, Lava Stone, and the Hamsa Hand, a trinity of energy and protection that accompanies you on your journey of spiritual well-being.

FAST AND RELIABLE SHIPPING

DEDICATED CUSTOMER SUPPORT
View full details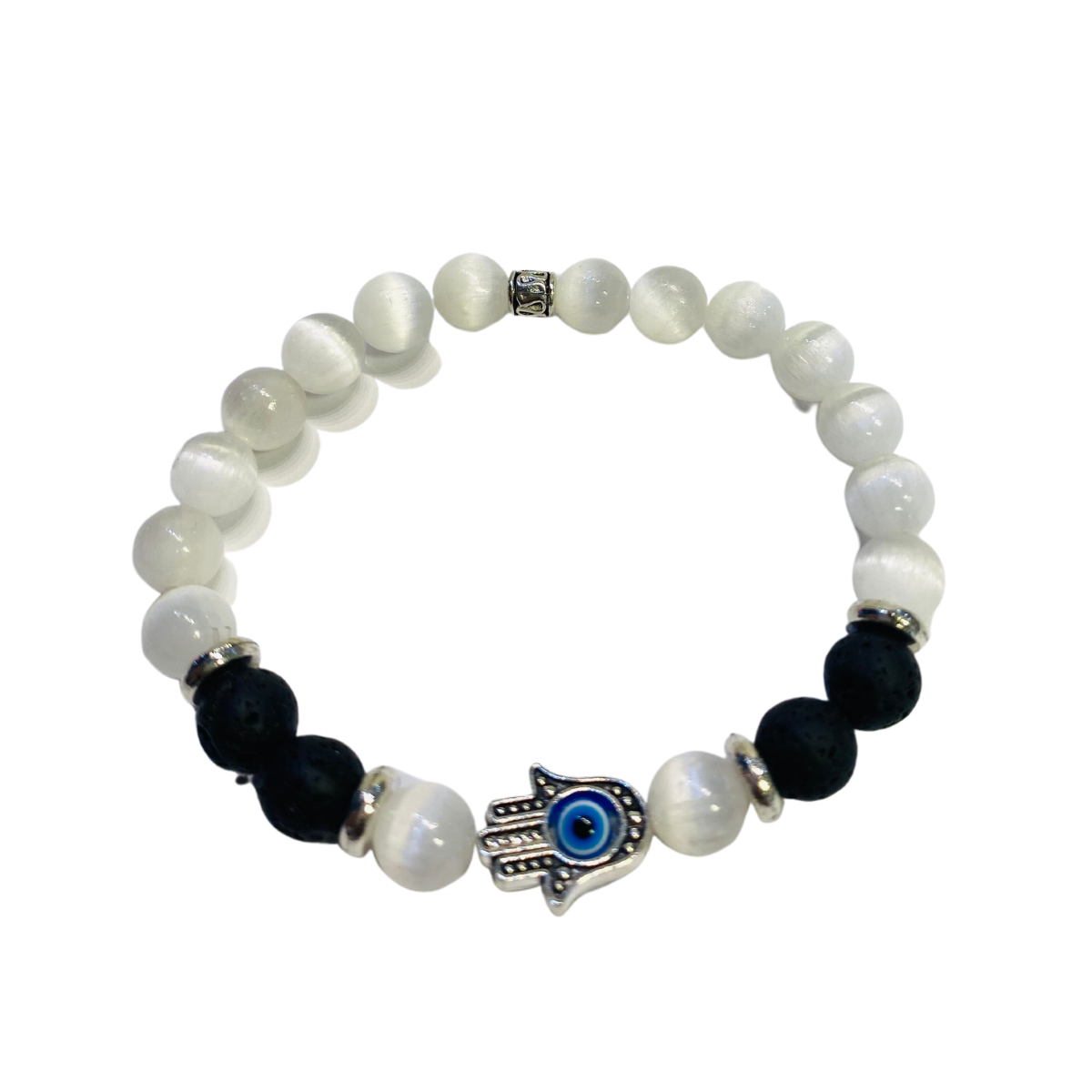 SHOP NOW RISK-FREE
Authenticity
Promise

Every product is genuine and
handpicked for the highest spiritual
potency.

Fast and Reliable
Shipping

Swift and dependable shipping,
delivering your spiritual tools in
perfect condition.

Dedicated Customer
Support

Prompt and supportive service
for all your product queries
and spiritual insights.
follow us @spiritualandpaid
follow us @spiritualandpaid
follow us @spiritualandpaid
follow us @spiritualandpaid
follow us @spiritualandpaid
From our tribe to yours
Real stories, rituals, and transformations.
100,000+ Happy Customers