Regular price
Sale price
$35.95 USD
Unit price
per
Sale
Sold out
Enchanting Opalite Tower adorned with the celestial moon phases, an embodiment of cosmic harmony and mystical awareness. This crystal stands tall, its translucent hues captivate the eye and stir the spirit.
These beautiful Opalite Towers showcase the phases of the moon as it phases between New and Full. Opalite is associated with cosmic and spiritual energies, and its presence enhances one's ability to connect with higher realms and intuitive wisdom.
Opalite is also known to:
✨ Boost your self-esteem and improve your sense of self-worth.

✨ Aid in healing your emotions.

✨ Clear troubles of the heart
✨Create a sense of peace in your life.

✨ Help attract success
Moon Phases shown on Crystal:
🌑 New Moon: The New Moon is symbolic of new beginnings, enjoy the freshness of having a blank space and begin preparing to think about all the ways you can fill it.
🌒 Waxing Crescent: Perfect time for manifesting, This growing energy is the best time for setting intentions.
🌓 First Quarter: Momentum is building, the First Quarter moon is symbolic of taking those steps toward your goal. Manifestation is nothing without action, begin showing the universe that you are disciplined and aware that securing your goals takes work.
🌔 Waxing Gibbous: The full moon is almost here! Pay attention to the steps that you have taken, reflect, and tweak your intentions when necessary to ensure that you are conscious of how you are creating.
🌕 Full Moon: Reap what you've sown! The full moon is when the moon's light is at is peak, use this strong energy to release your manifestation entirely so that it may be brought back to you in divine timing.
🌖 Waning Gibbous: Flow inward and return to being introspective, this time is the perfect time for journaling, shadow work, and meditation.
🌗 Third Quarter: Rest and release, after analyzing yourself and your truth, begin to release any limiting beliefs and any relationships that are no longer serving you.
🌘 Waning Crescent: Surrender. Surrender. Surrender. The law of detachment speaks that in order to attract what it is we truly want, we have to completely release any attachment to the outcome as well. Affirm yourself at this time and fall back on your trust and faith. 
 And the cycle repeats!
Please note this listing is for ONE Moon Phases Howlite Tower ONLY. This information given is completely metaphysical and not meant to replace professional medical treatment.
FAST AND RELIABLE SHIPPING

DEDICATED CUSTOMER SUPPORT
View full details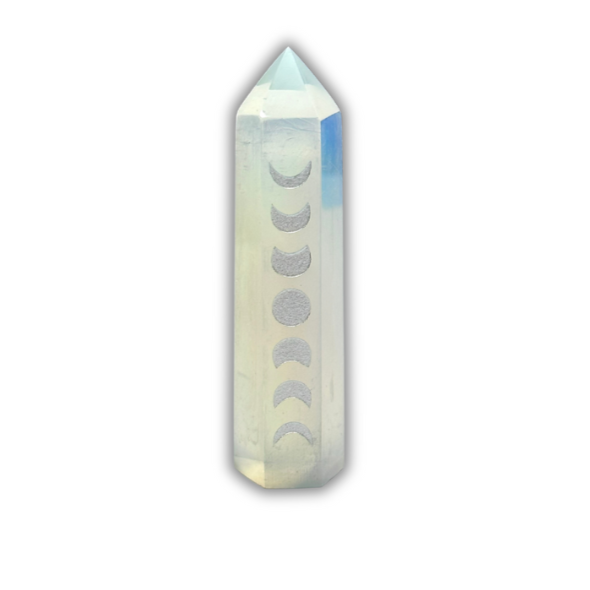 follow us @spiritualandpaid
follow us @spiritualandpaid
follow us @spiritualandpaid
follow us @spiritualandpaid
follow us @spiritualandpaid
From our tribe to yours
Real stories, rituals, and transformations.
100,000+ Happy Customers
SHOP NOW RISK-FREE
Authenticity
Promise

Every product is genuine and
handpicked for the highest spiritual
potency.

Fast and Reliable
Shipping

Swift and dependable shipping,
delivering your spiritual tools in
perfect condition.

Dedicated Customer
Support

Prompt and supportive service
for all your product queries
and spiritual insights.