Regular price
Sale price
$30.95 USD
Unit price
per
Sale
Sold out
Description

Attract abundance and material wealth with ease with this Magical Prosperity Crystal set. All abundance first begins in the mind, these stones are not only known for their way of healing the flow of money into our lives, but, they also have amazing healing benefits as well.

 

It includes:

1 Tiger's Eye Stone ($6.99)

🤎  Tiger's Eye is a stone of protection that is known to bring good luck and abundance to all who work with it. It attracts wealth in such a way that you are focused and able to maintain it well. 

 

1 Citrine Stone ($6.99)

💛 Citrine will keep you motivated on your goals and will attract optimism and success. It also helps you to release frustration, which is the main blockage when manifesting anything materially. Action is necessary, and citrine will help you order your steps to success!

 

1 Green Aventurine Stone ($6.99)

💚 Green Aventurine is well known as the stone of abundance and wealth. Not only is it a money magnet -- it also helps raise your levels of creativity! It is connected with the energy of your heart chakra and has a beautiful healing energy that will keep you humble, and allow you to express gratitude as you pursue richness in life.

 

1 Pyrite Stone ($6.99)

🌟 Pyrite is a beautiful stone of luck and protection, it shields your energy from negativity. People always say, "It's lonely at the top", but when you are divinely protected there is peace in knowing that no one's negative energy is having an effect on your prosperity. Pyrite is also connected to your solar plexus chakra which helps you to become more determined and confident in your abilities.

 

1 Amethyst Stone ($6.99)

💜 Amethyst will help you to soothe any uncertainties you are having and keep you spiritually aligned to the fact that success is your birthright! Not only will Amethyst keep you peaceful, it is also known to draw in high vibrational wealth and prosperity; after all, purple is the color of royalty. 

 

and

1 Gold Feng Shui Prosperity Dollar ($4.44)

💵 Manifesting money is easy with this powerful tool of abundance. It is known across the world for being a powerful money magnet; it attracts wealth, generates opportunity, and is a symbol for good luck and good fortune. 

 

Wish yourself the prosperity, abundance, and wealth that you deserve with this Magical Prosperity Crystal Set.

 

This information given is completely metaphysical and not meant to replace professional medical treatment.
FAST AND RELIABLE SHIPPING

DEDICATED CUSTOMER SUPPORT
View full details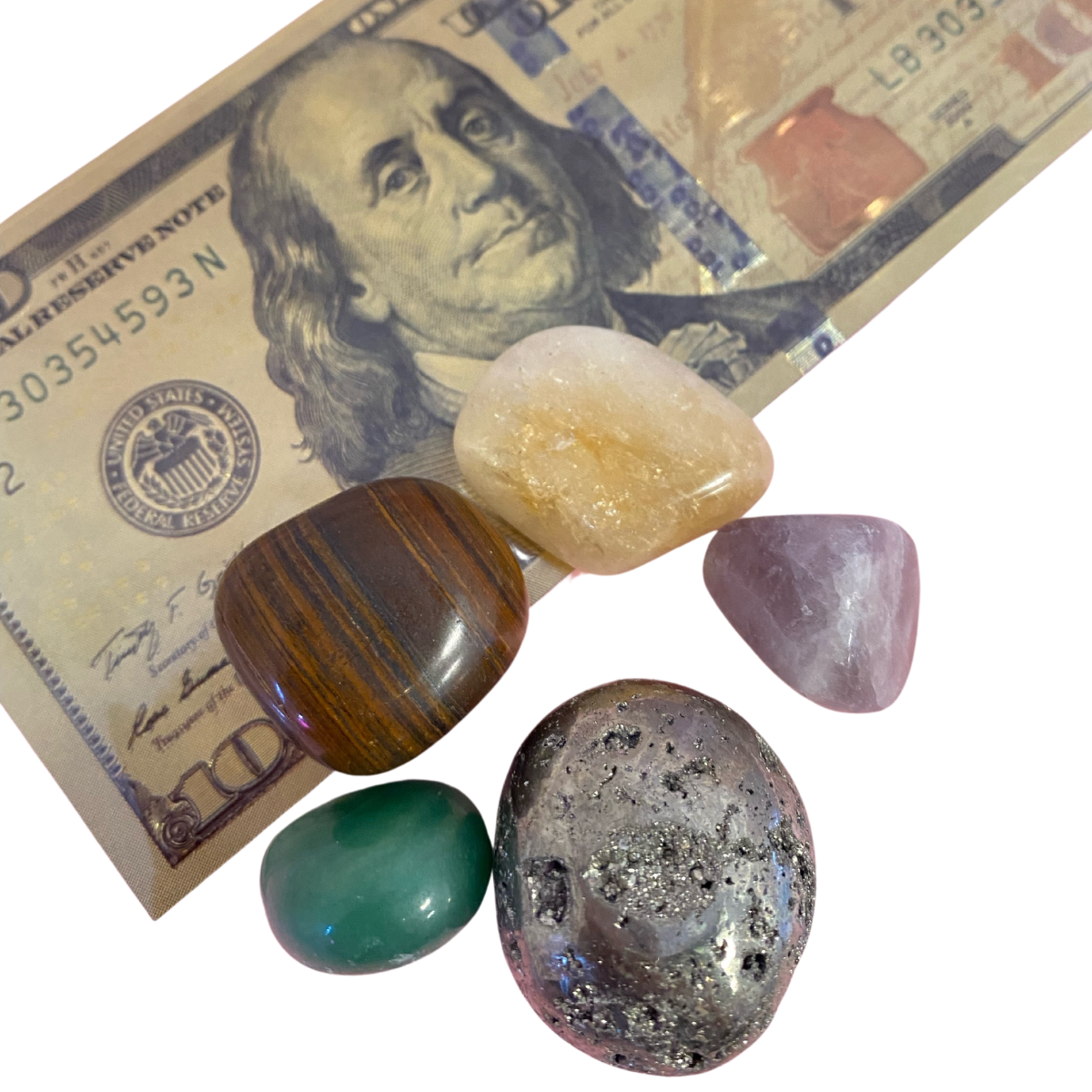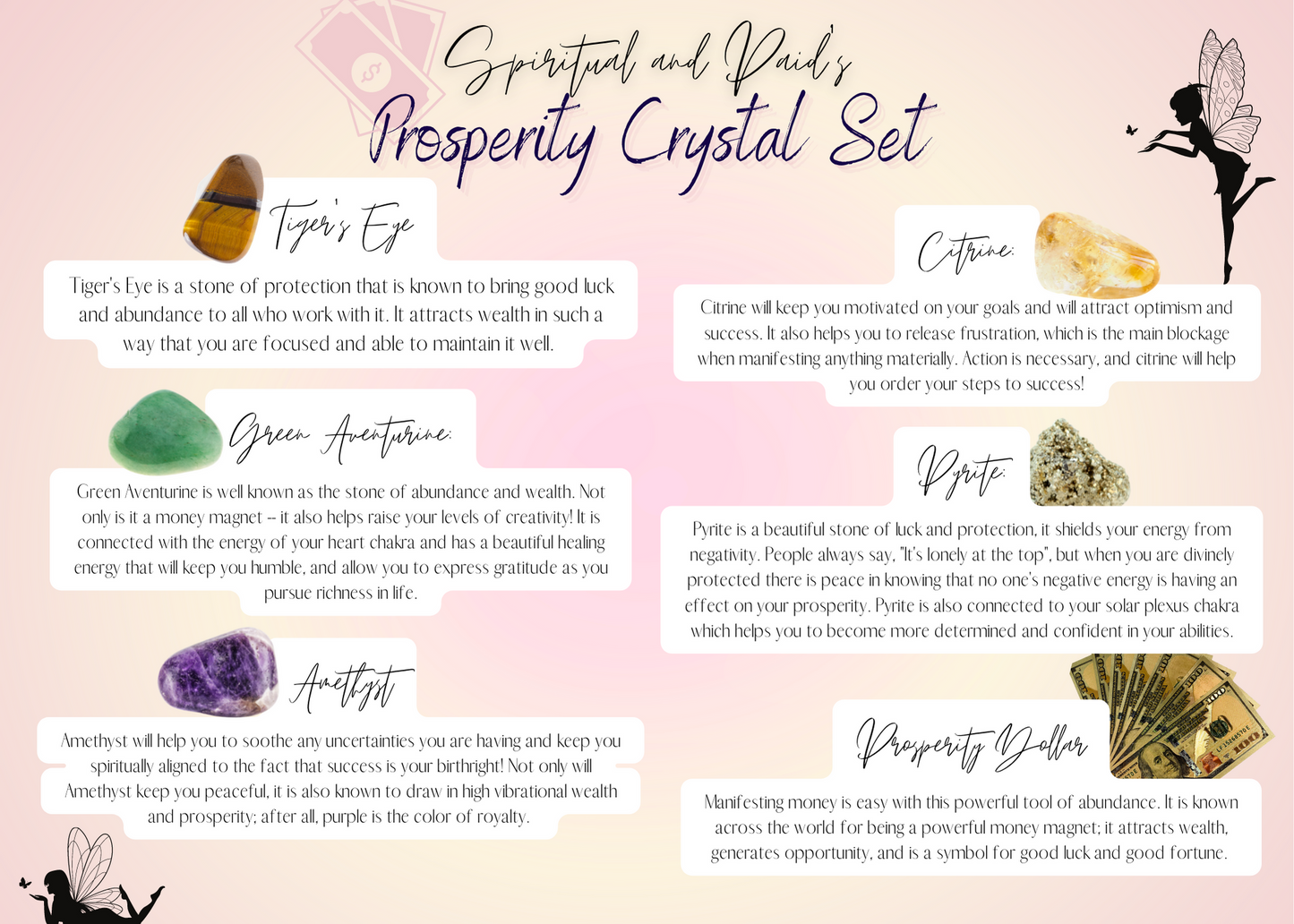 SHOP NOW RISK-FREE
Authenticity
Promise

Every product is genuine and
handpicked for the highest spiritual
potency.

Fast and Reliable
Shipping

Swift and dependable shipping,
delivering your spiritual tools in
perfect condition.

Dedicated Customer
Support

Prompt and supportive service
for all your product queries
and spiritual insights.
follow us @spiritualandpaid
follow us @spiritualandpaid
follow us @spiritualandpaid
follow us @spiritualandpaid
follow us @spiritualandpaid
From our tribe to yours
Real stories, rituals, and transformations.
100,000+ Happy Customers