Regular price
Sale price
$99.95 USD
Unit price
per
Sale
Sold out
Description

Introducing our enchanting Spiritual Unicorn Goddess Box - the ultimate metaphysical glam kit designed to elevate your spiritual journey and help you manifest your deepest desires. Embrace the magic within and unlock the power of intention with this beautifully curated collection of mystical tools and sacred treasures.

At the heart of this captivating box is our 10oz Spiritual Unicorn Magical Intention Candle. Crafted with precision and infused with positive energy, this exquisite candle serves as your guiding light during yoga sessions, meditation practices, and spiritual enlightenment. Allow its gentle glow to illuminate your path, align your chakras, and unveil the clarity you seek.

Enhance the purity of your space with our Pink Rose Sage Bundle. Harness the ancient wisdom of sage smudging to purify your home or workplace, releasing any lingering negative or toxic energies. You can also use this delicate bundle to cleanse your crystals, restoring their vibrant energy and inviting harmony into your life.

Adorn your wrist with the Opalite Crystal Bracelet, a symbol of balance and emotional harmony. As it graces your skin, this mesmerizing crystal will gently awaken your heart chakra, heighten your intuition, and invite emotional equilibrium into your being. Feel its soothing presence guide you towards a state of inner peace and serenity.

Embrace the power of intention with our 1oz Spiritual Unicorn Intention Oil, specially formulated to amplify your desires and manifest your dreams. Infused with sacred essences, this mystical elixir becomes a potent ally in your journey towards alignment and manifestation.

Discover the profound energies of the Clear Quartz crystal, a master healer that supports emotional well-being, amplifies energy, and enhances your psychic abilities. Embrace its divine presence as you navigate your spiritual path, harnessing its potential to manifest your deepest intentions.

Lastly, this ethereal Goddess Box includes a Spiritual and Sacred Keepsakes Pouch, where you can safely store your cherished treasures, ensuring their energies remain pure and protected.

Unleash your inner goddess and embark on a transformative journey of self-discovery with our Spiritual Unicorn Goddess Box. Each enchanting item within is thoughtfully curated to empower you, radiate positivity, and assist you in manifesting the life you desire. Embrace the magic and step into the realm of limitless possibilities. 
FAST AND RELIABLE SHIPPING

DEDICATED CUSTOMER SUPPORT
View full details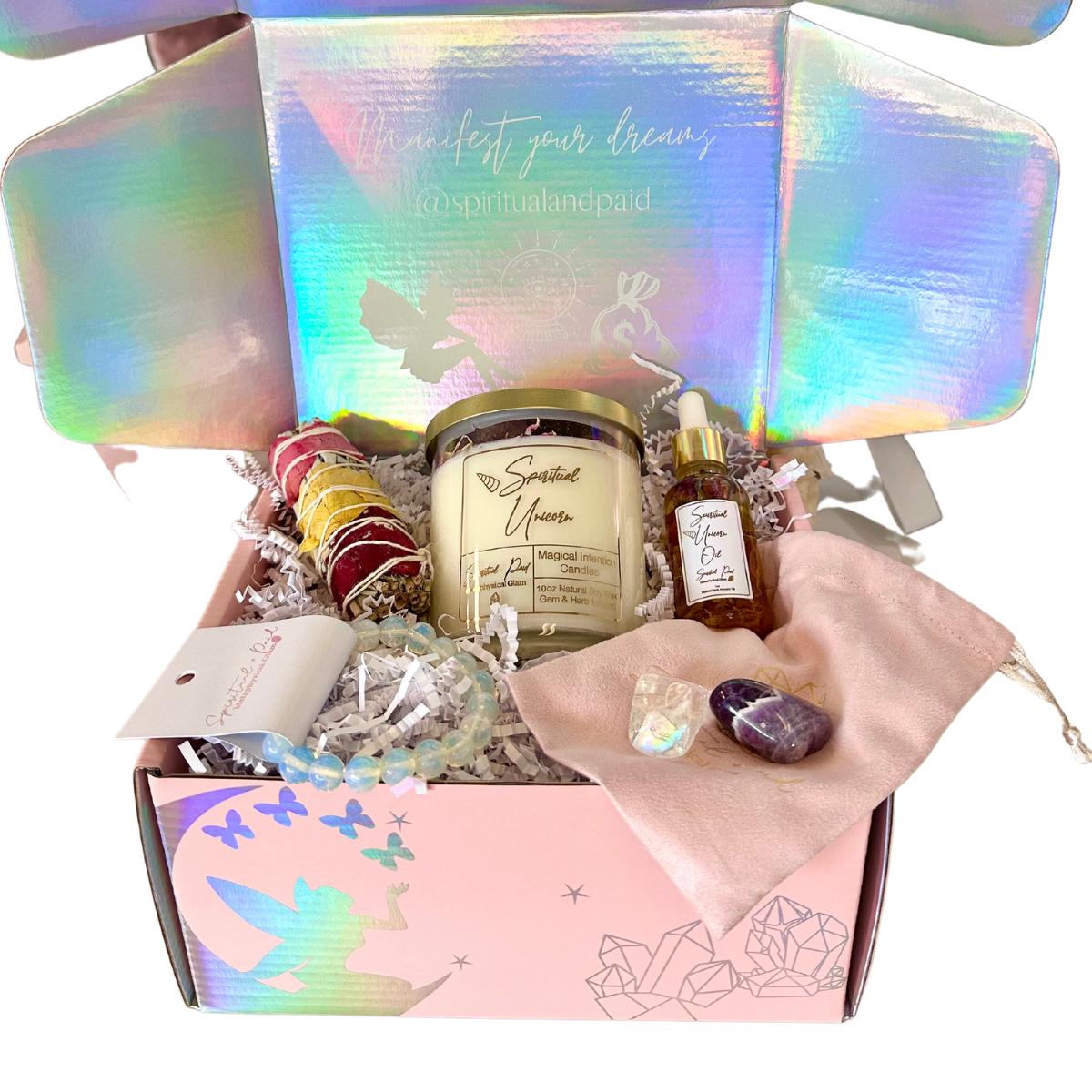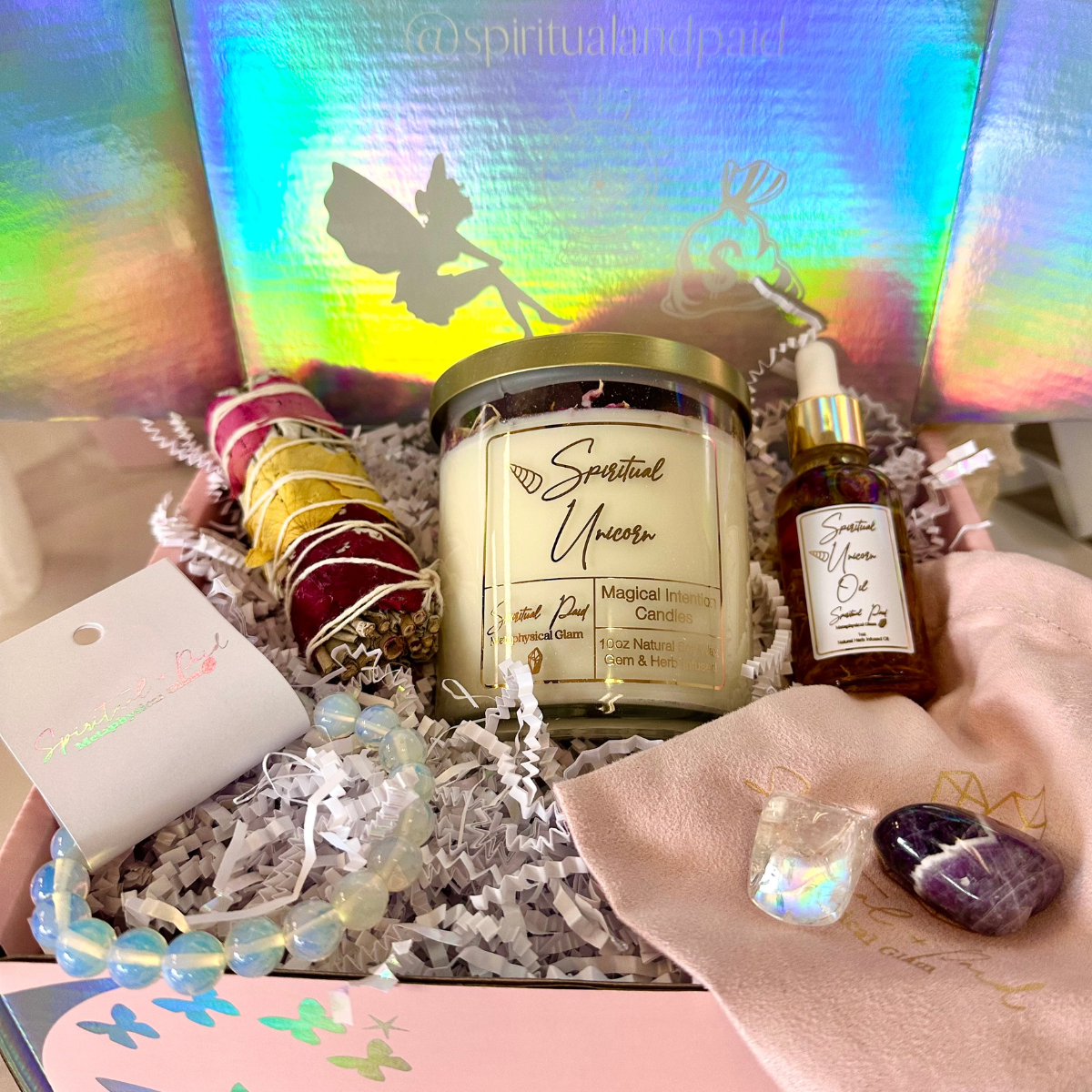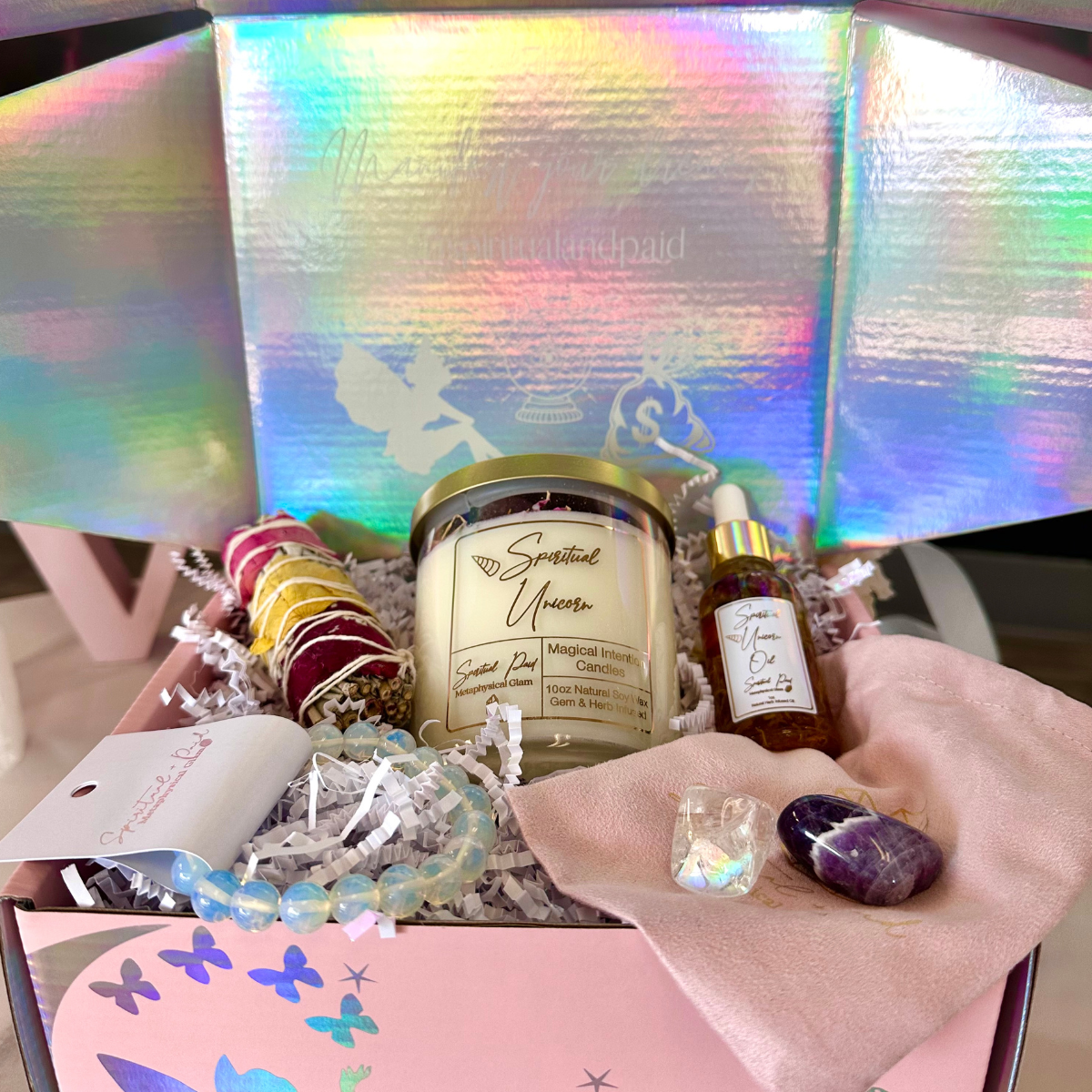 SHOP NOW RISK-FREE
Authenticity
Promise

Every product is genuine and
handpicked for the highest spiritual
potency.

Fast and Reliable
Shipping

Swift and dependable shipping,
delivering your spiritual tools in
perfect condition.

Dedicated Customer
Support

Prompt and supportive service
for all your product queries
and spiritual insights.
follow us @spiritualandpaid
follow us @spiritualandpaid
follow us @spiritualandpaid
follow us @spiritualandpaid
follow us @spiritualandpaid
From our tribe to yours
Real stories, rituals, and transformations.
100,000+ Happy Customers